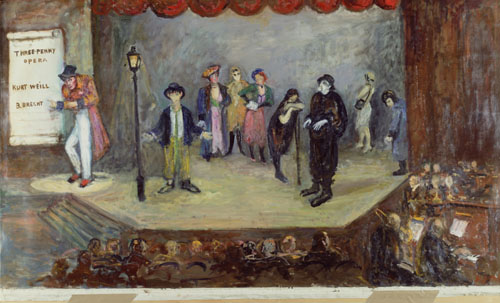 Click here to RSVP

Arbit Blatas: A Centennial Celebration
September 2, 2008 - July 6, 2009

A career retrospective of the celebrated School of Paris painter and sculptor, who portrayed the Jewish artists of Montparnasse, depicted Kurt Weill's Threepenny Opera, and created the Holocaust memorials for Venice, Paris, and New York. Co-sponsored by the Anti-Defamation League (ADL).

Reception: Wednesday, November 19, 2008, 5:30-7:30 p.m.,
6:30 p.m.: Lecture by Abraham H. Foxman, National Director, ADL
RSVP and Photo ID Required; kmoscowitz@huc.edu or (212) 824-2293

Location: One West 4th Street (between Broadway and Mercer Street), Manhattan
Subway: R/W to 8th St./NYU; 6 to Astor Place; A/C/E/B/D/F/V to W. 4th St.
Hours: Mondays through Thursdays, 9:00 a.m. to 5:00 p.m.; Fridays, 9:00 a.m. to 3:00 p.m.; Selected Sundays (Oct. 19, Nov. 23, Dec. 14, Jan. 25), 10:00 a.m. to 2:00 p.m.
Admission: FREE. Photo ID required.
Group Tours and Information: Elizabeth Mueller, (212) 824-2205, emueller@huc.edu
www.huc.edu/museums/ny.