The New York City Teen Fellows Project
Launching the Inaugural Cohort on Television Journalism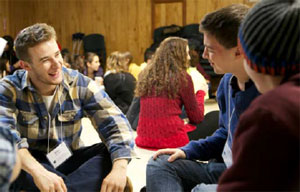 Are you passionate about television journalism
and seeking in‐the‐field experience?
The New York City Teen Fellows Project provides teens with the opportunity to delve into their area of interest and connect with Jewish thought and practice.
The inaugural New York City Teen Fellows Project cohort is
designed for teens with an interest in television journalism.
Working with a Senior Producer from The CBS Evening News, participants
will have the opportunity to:
Work on developing news stories;
Discuss the Jewish ethical components and difficult decisions made daily in television journalism; and
Understand and experience putting together a news broadcast!
Upon completion of the Fellowship, participants will receive a Certificate of Completion.
DATES: Sunday Afternoons ‐ January 11, 2015; January 25, 2015; and February 8, 2015
COST: $100 for three sessions, including food and all associated programmatic expenses
CONTACT: Michael Fuld, Regional Director of Youth Engagement, NY Area at (212) 650‐4039 or mfuld@urj.org
This program was made possible through a micro‐grant from The Jewish Education Project, an agency committed to sparking and spreading innovations that expand the reach and increase the impact of Jewish education.