Page not displaying properly?
View it in your web browser

You're receiving this email because you signed up to receive
emails from Hebrew Union College-Jewish Institute of Religion
| | | | | | | | |
| --- | --- | --- | --- | --- | --- | --- | --- |
| November 29, 2012 | | | | | | | |
Spotlight
Ordination and Academic Convocation at HUC-JIR/Jerusalem
The Jerusalem campus of HUC-JIR held its Ordination and Academic Convocation on Wednesday, November 14, 2012 at 13 King David Street, Jerusalem, Israel. Seven new Israeli Reform rabbis were ordained: Esteban Gottfried, Na'ama Dafni-Kellen, Yehudit (Judith) Werchow, Or Zohar, Uri Lam, Gadi Raviv, and Tlalit Shavit. Certificates were presented to graduates of the Pluralistic Jewish Education and Sugyot Chaim – Life Texts for Pastoral Care programs. Honorary degrees were awarded to Israeli leaders in jurisprudence, religious institutions, educational organizations, scholars, and social activists: Rabbi Moshe Yehudai, Rabbi Dr. Daniel Schiff, Avraham Infeld, and President (ret.) of the Supreme Court of Israel Dorit Beinisch, who presented the Ordination and Academic Convocation Address in absentia.
News
Creating Community among Pluralistic Young Social Activists with the Tnufa Program
The Tnufa (momentum) Program, an exciting program for young leadership training, is an initiative of two university students who grew up in Israel's Reform Movement and approached HUC-JIR with the hope of gaining support and direction to become more effective social activists. The program, geared towards dynamic professionals who are making their way in a range of educational and cultural from all over the country, aims to create a community among pluralistic young social activists. During their bi-monthly meetings at HUC-JIR, participants create, dream, and develop professional leadership skills that will enable them to positively impact on Israeli culture and society.
Rabbi Haim O. Rechnitzer's Prophecy and the Perfect Political Order: The Political Theology of Leo Strauss
Rabbi Haim O. Rechnitzer, Ph.D., Associate Professor of Jewish Thought, recently published Prophecy and the Perfect Political Order: The Political Theology of Leo Strauss (Mosad Bialik, 2012), which focuses on the inherent tensions between religion, human intellect, and political society. Strauss (1899-1973), one of the greatest scholars of political philosophy, never produced an independent philosophy. Instead, his philosophical thought is entwined within commentary on the works of Maimonides, Hobbes, Spinoza, Nietzsche, and others. In this book, it is reconstructed through a comprehensive investigation of his works.
Announcing Recruitment for the Jewish Early Childhood Education Leadership Institute
Are you a new director of a Jewish early childhood education program? Do you aspire to be a leader of such a program? Contribute more deeply to the Jewish culture of your program, learn and apply proven leadership skills, and connect your early childhood program to your institution. Contact us at JECELI@jtsa.edu. Offered jointly by HUC-JIR and The Jewish Theological Seminary, with the generous support of the Jim Joseph Foundation.
Rhea Hirsch School of Education Alumni Day of Learning
On November 12, 2012, over forty Rhea Hirsch School of Education and New York School of Education alumni gathered for the Rhea Hirsch School of Education Alumni Day of Learning with Dr. Lisa Grant and Professor Sara Lee. The theme of the day, "Examining the Place of Israel in our Personal and Professional Lives," drew upon the years of experience that Dr. Grant and Professor Lee share from working together to strengthen and enhance Israel education at the College-Institute. Alumni were exposed to texts, photos, and lenses through which to think about both their personal connections and professional stance on Israel.
Rebecca Ross Named Inaugural Carol Koransky Intern at The Jewish Federation of Greater Los Angeles
The Jewish Federation of Greater Los Angeles has announced that Rebecca Ross, a dual-degree student at the Jack H. Skirball Campus in Los Angeles, is their inaugural Carol Koransky Intern. Rebecca is a student in the School of Jewish Nonprofit Management and the Rhea Hirsch School of Education and is interning at The Jewish Federation Development Department. This internship was established last year in Carol Koransky's honor to allow young professionals to develop into leaders who help heal the world, touch lives, and plant seeds for a new generation.
In the Media
HUC-JIR Honors Women of Leadership – Cincinnati.com
The Cincinnati Associates of HUC-JIR held the 29th Annual Tribute Dinner on October 20 in Cincinnati. More than 600 attended and paid tribute to four women whose examples of leadership, achievement and vision have inspired others to strive towards their own goals and aspirations. The evening, "Celebrating Women of Spirit," honored Cincinnati community leader and HUC-JIR Overseer Mona Kerstine; Kay Geiger, President of PNC Bank, Greater Cincinnati & Northern Kentucky; Phyllis Shapiro Sewell, founding member and former President and Chair of the Jewish Foundation of Cincinnati; and Joan Pines, Chair of HUC-JIR's Central Region Board of Overseers and member of the HUC-JIR Board of Governors.
B'nai Mitzvah: A Revolution, Not A Graduation – The Jewish Week
The B'nai Mitzvah Revolution, a Reform Movement pilot initiative, aims to "radically rethink" the Jewish rite of passage and its place in synagogue life and education. With many children and their parents viewing bar/bat mitzvah as the primary purpose of Jewish education and synagogue membership — and with growing numbers opting for private tutors and do-it-yourself ceremonies officiated by hired rabbis — the idea is to help congregations "radically transform" the ceremony and preparation for it. The goal: simultaneously making the b'nai mitzvah experience more meaningful and engaging, yet also, de-emphasizing its graduation-like role in liberal Jewish education.
HUC-JIR Part of Dead Sea Scrolls' Mystery – Cincinnati.com
For decades, HUC-JIR/Cincinnati has been an unsung hero in the long, dramatic struggle to save and understand the ancient Dead Sea Scrolls. Jason Kalman, Associate Professor of Classical Hebrew Literature and Interpretation, has studied his school's complex involvement with the scrolls and just published a book about it, "Hebrew Union College and the Dead Sea Scrolls." "The story of HUC-JIR's involvement is the story of the translation of the scrolls, not just from Hebrew and Aramaic to English, but from unknown historical artifacts into documents of historic and religious significance," says Kalman.
Learn more about the Dead Sea Scrolls:
Beyond Kvetch, Kvell: A New Lexicon – The Jewish Week
From alte kaker, or old man in Yiddish, to zatar, an Israeli spice, Americans' Jewish identity has long flavored their English. Now a professor has harnessed the Internet to collect those heimish (cozy and warm) expressions that have made their way into the vernacular from sources including, but not limited to, Aramaic, Ladino, Yiddish, and Hebrew. The "Jewish English Lexicon" at jewish-languages.org grew out of Dr. Sarah Benor's "American-Jewish Language and Identity in Historical Context" class at HUC-JIR. It's a living demonstration of the diversity of Jewish English. "Certain words identify Jews as being part of certain Jewish subgroups," she said. Jews use these words to "distinguish themselves not just from non-Jews, but from each other."
Learn more from Dr. Benor: Shtus Jews Say: Jewish Memes, Jewish Identities - Zeek
On War, Love, and Preserving an Ethical Core – Times of Israel
Rabbi Rachel Sabath Beit-Halachmi, Ph.D., Lecturer in Liturgy, writes, "Nothing focuses our attention quite like war. Among the many phenomena of war is the way in which it forces an existential confrontation with life and death and focuses our minds more clearly on that which we truly fear and that which we truly love. Both the unbearable weight of fear and the overwhelming love of life cause us to act in inexplicable ways. The experience changes what we do, perhaps only temporarily – but we are never quite the same afterward."
A Communal 'Tzedek' Who Studies Power – The Jewish Journal
Dr. Steven Windmueller, Rabbi Alfred Gottschalk Emeritus Professor, has returned to his academic roots. He is writing a book about Jewish power, looking at the two very different types of power structures that have existed in the American Jewish community over the course of the last two and a quarter centuries. The first period, he said, began around 1880, and saw the creation of the Federation-based model, "a communal system that was very successful." Over the past few decades — the same ones Windmueller witnessed both as a professional and as a scholar of the Jewish community, the Federation-centered Jewish world, which he called a "crisis-based system," has given way to the new model that exists today, he said. In the future, with many more diffuse groups representing a far more individualized community, Windmueller said that American Jewry "will look differently, it will behave differently, and it will be far less coherent."
Learn more from Dr. Windmueller: Jewish vote dissipates as new ethnic groups flex muscle – The Jewish Chronicle
Rabbi Jessica Gross Thrives in Pubs, Not Pulpits – Baltimore Jewish Times
Hired in June 2012 by the Jewish Community Center of Greater Baltimore, HUC-JIR/Jack H. Skirball Campus 2012 alumna Rabbi Jessica "Jessy" Gross' full-time job is embedding herself in the downtown Baltimore Jewish community and connecting those who comprise it with organically formed events. The relationships, she says, don't necessarily have to take shape spiritually. They just have to take shape. "I don't think a lot of people have an idea of what it would mean to say, 'I'm interested in being part of a Jewish community,' and for that not to be an inherently religious statement," Gross said. "That's the gift of the fact that we're not just a religion — we're a people."
An Unorthodox Guide to Sexuality – The Jewish Daily Forward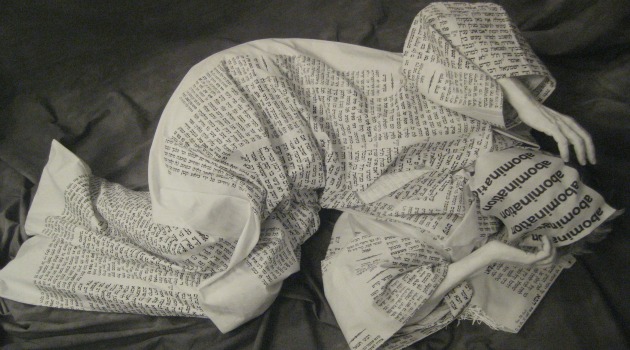 Creating an art exhibit that captures the complexity of changes in how gay, lesbian, bisexual, transgender, queer, and intersex people are viewed is no small challenge. Especially when it is displayed at a rabbinical seminary, where there is a stricter definition of what is considered appropriate than there would be at, say, a Cheslea gallery. But the work exhibited in the new show "The Sexuality Spectrum," at the New York campus of HUC-JIR manages to do just that. "We wanted to address exclusion, isolation, rejection, marginalization, parents who rejected their children who had AIDS and sat shiva when they came out," said Laura Kruger, Curator. "The innate fear and loathing that has been inherent in the subject of other-than-heterosexual behavior has been a puzzle to me all my life."
A Blessing to One Another: Pope John Paul II and the Jewish People – The Catholic Beat
Returning to Cincinnati for its final US stop, the groundbreaking exhibit A Blessing to One Another: Pope John Paul II and the Jewish People is on display at the Skirball Museum at HUC-JIR/Cincinnati through December 31. Through photographs, videos, and documents, the exhibit explores the childhood friendship between Karol Wojtyla (Pope John Paul II) and Jerzy Kluger, and how it developed throughout the Holocaust, World War II, and their subsequent lives. It is a powerful testament to how friendship and respect can overcome not only horrific political and social events, but centuries of religious strife.
New HUC-JIR Rabbi Moves to Sydney - JWire
Sydney's North Shore Temple Emanuel has announced the appointment of Rabbi Nicole Roberts, who was ordained at HUC-JIR/Cincinnati in 2012. Susan Kadar, President of NSTE, said "I am thrilled that with Rabbi Nicole we have found a perfect fit for our congregation. She brings to us an outstanding commitment to Progressive Judaism, scholarship and Bimah skills as well as a warm and friendly personality that helps her to reach out to and establish relationships with young and old and everyone in between." Rabbi Roberts is looking forward to building community and to "being immersed in what I love – Jewish living and learning, in a warm and loving congregational family."
Be the Eighth Candle: A Teaching for Hanukkah – HUC-JIR's Blog of Continuing Jewish Learning
Rabbi Judith Abrams writes, "Pesikta Rabbati contains an extensive midrashic examination of Hanukkah's meaning, one of which enumerates seven different Hannukkahs. These seven Hannukkahs are logical: each celebrates the finishing of some important work. But why didn't the midrash name eight Hanukkahs? Perhaps the midrash is allowing us to supply our own, personal Hannukkahs. The hallmark of a Hannukkah is that it marks the finishing of a large project. So one way to observe Hanukkah would be to make a commitment to a project that can be finished in a year, so that, next year, it will become the eighth Hanukkah."
Faculty
Rabbi Jonathan Cohen, Ph.D., Dean, HUC-JIR/Cincinnati, will present the Sanford J. Ettinger Memorial Lecture at Congregation Shalom on November 30.
Dr. Tamara Cohn Eskenazi, Professor of Bible, has been invited to present a paper on "The Reconfiguration of Gender in the Postexilic Period" at the Society of Biblical Literature Annual Meeting in Chicago from November 17-20, in the session of the "Exile (Forced Migration) in Biblical Literature Group." Dr. Eskenazi was invited to be a panelist in the "Women in the Biblical World Section/Feminist Hermeneutic of the Hebrew Bible Section" celebrating the publication of the Twentieth Anniversary Edition of the Women's Bible Commentary: Assessing the Past and Looking Forward," at the Society of Biblical Literature Annual Meeting.
Rabbi David Ellenson, Ph.D., President, will present "Jewish Peoplehood in the Jewish State: Marriage, Conversion, and the Future of Israel" at Duke University on December 9. Learn more.
Dr. Michael Zeldin, Senior National Director of the Schools of Education and Professor of Jewish Education, will serve as the Scholar for the 2012 Conference of the National Association of Temple Educators on the topic, "The Answer to 'How Can We?' is 'Yes We Can': Making Project-Based Learning Work in Jewish Education."
Events
Moment Magazine–Karma Foundation Fiction Contest Awards – December 4 at HUC-JIR/New York
HUC-JIR and Moment Magazine are hosting an awards ceremony for the 2011 Moment Magazine-Karma Foundation Short Fiction Contest on December 4 at the New York campus (One West Fourth Street). Contest judge Walter Mosley, author of the Easy Rawlins mysteries, including Devil in a Blue Dress, will read from his new work, as will award winners Joan Leegant, Wherever You Go, An Hour in Paradise; Ruchama King, Seven Blessings; Avital Chizhik; and finalists Stuart Rosh, Gone for Good: Tales of University Life After the Golden Age; and Wendy Zierler, And Rachel Stole the Idols: The Emergence of Modern Hebrew Women Writers.
Is Jewish Education Broken? – December 13 in New York
As enrollment drops in liberal Jewish schools, it is important to ask: is liberal Jewish education relevant to today's students? Is it time for a more progressive model? Join Rabbi Tali Zelkowicz, Ph.D., Assistant Professor of Education and Professor Sara S. Lee Chair for an Emerging Scholar in Jewish Education, and Dr. Jonathan Krasner, Associate Professor of the American Jewish Experience, to discuss new visions, models, and curricula that prepare students for the complexities of Jewish life in the 21st century on December 13 at the 14th Street Y (344 East 14th Street, New York, NY).
The JPS Torah at Fifty: A Celebration of a Translation and a Translator – December 13 at HUC-JIR/New York
HUC-JIR and The Jewish Publication Society invite you to "A Celebration of a Translation and a Translator," celebrating the 50th anniversary of the "New JPS Translation" of the Torah, and marking the 20th yahrzeit of Dr. Harry M. Orlinsky, and the 90th anniversary of the Jewish Institute of Religion on December 13 at 6pm at HUC-JIR/New York. Dr. Leonard Greenspoon, Klutznick Chair in Jewish Civilization and Professor of Classical & Near Eastern Studies and Theology, Creighton University, will be the keynote speaker, with responses by Rabbi David Ellenson, Ph.D., President, HUC-JIR; Dr. S. David Sperling, Professor of Bible, HUC-JIR; and Rabbi Barry L. Schwartz, Director, Jewish Publication Society. Click here to RSVP.
Lectures at the Nelson Glueck School of Biblical Archaeology at HUC-JIR/Jerusalem
The Nelson Glueck School of Biblical Archaeology announces its annual lecture series, presented in Hebrew and designed to share the results of recent archaeological research to the general public in Israel. Coming up next: On December 25, Katia Cytryn-Silverman will present "New Excavations at Tiberias."
Photo of the Week
URJ President Rabbi Rick Jacobs visited Israel last week to demonstrate the Reform Movement's solidarity with, and commitment to, the people of Israel during this time of crisis. While there, he visited with our students in the Year-in-Israel program at the Jerusalem campus. Listen to a briefing from Rabbi Jacobs about his recent trip.

Click here for a larger image.
Judaica Gallery
Designed and hand crafted by renowned glass artist Steve Resnick, these beautiful wedding glasses display the etching Ani L'dodi Vidodi Li (I am my Beloved's and my Beloved is mine).

To purchase, please contact: 212-824-2218, museumnyc@huc.edu.

Click here for a larger image.
Cincinnati
3101 Clifton Avenue
Cincinnati, OH 45220


Jerusalem
13 King David Street
Jerusalem 94101, Israel


Los Angeles
Jack H. Skirball Campus
3077 University Avenue
Los Angeles, CA 90007


New York
Brookdale Center
One West Fourth Street
New York, NY 10012